Frédéric Gies + Weld Company: Tribute
"As I started to imagine what could be the dance piece I would make for a dance company that is "aiming to rediscover and revaluate the old institution of Dance Company," personal memories of dances I witnessed came flooding back. Each of them is closely tied to a dancer whom I saw in the darkness of the dance floor or from my seat at the theatre. These memories, more than mere images, reappear as an imprint in my body. They are also constitutive of my dances. They are my library.
Many dancers dance in a dancer's body and a dance is always the product of other dances as well as a call for dances to come. For
TRIBUTE
, I'll open my library to the dancers of
Weld Company
, to make dances that summon up the poetic, delicate and raw textures of past dances, utterly present as the promise of dances to come."
Choreography
:
Frédéric Gies
Dance
: Caroline Byström,
Robin Dingemans
, Samuel Draper,
Sybrig Dokter
,
Marie Fahlin
, Elias Girod, Andreas Haglund,
Disa Krosness
,
Per Sacklén
, Andrea Svensson and Anna Westberg
Music
:
Fiedel
Lighting design
:
Thomas Zamolo
Marie Fahlin
and Elias Girod are dressed by Maldoror
With thanks to
Malin Arnell
and
Mario Fjell
Image credits: Samuel Feldhandler, Thomas Zamolo
The egg, the cat and the poem, were surface tears
In his exhibition
The egg, the cat and the poem, were surface tears
(
Konsthall C
2019), artist and choreographer
Pontus Pettersson
stages a series of encounters between objects and bodies, creating a exhibition as the piece itself within the space, visitors are presented with diverse manifestations of the artist's visual language – eggs of various sizes, from those you can hold in your hand to those large enough for several people to enter, are situated amongst shelves of books with mirrored silver covers, framed by the artist's distinctively patterned 'wallpaper.' Within this aesthetic terrain, performers can be found in different postures or engaged in movements of varying speeds, producing a performative environment without beginning or end. Visitors are invited to participate in three distinct yet overlapping scores, enacted at different moments with and through the objects. Flowing into one another, these choreographies create an atmosphere in which bodies become malleable, at the same time soflty alert. Through an engagement with practices of listening, the postures of the socially coded body are softened, instigating a different kind of sociality within the space of the exhibition. Poetry here can be considered as a gesture of generosity, in which the speaking body takes care of the listening body. Often understood as something private and individual, the practice of poetry becomes something shared. In the choreography, these elements come together to form a constellation in the moment: from a single word, a universe of meanings arise.
Image credit: Samuel Draper
Dad & Son #2 (Ribbon Dance)
Dad & Son #2 (Ribbon Dance)
elaborates on two previous works: the solo
Ribbon Dance
by
Frédéric Gies
and the duet
Dad & Son
by
Frédéric Gies
and Samuel Draper. To the infectious techno set by
Fiedel
(
Berghain - Ostgut Ton
), the two dancers sensually and joyfully surrender to these currents and forces in a celebratory dance that exposes and celebrates an unorthodox form of kinship rather than a normative, biological relationship. If the title of the performance can be interpreted as a wink to a gay form of sexual relationship, it exceeds this specific association, as it actually refers to another form of relationship the two dancers have agreed upon and live in the frame of their created surrogate family. The performance neither represents nor comments on the nature of this relationship, but simply puts it on stage as a ready-made. As the two dancers engage in a voluptuous dance (based on the original material of
Ribbon Dance
, which was a tribute to
Watermotor
by
Trisha Brown
) or when they bring the techno dance floor to the stage, they give to see what can circulates between two bodies – a younger and an older one, what is transmitted from one to another and the unutterable bounds betweens them.
Concept and score
:
Frédéric Gies
Dance
: Samuel Draper and
Frédéric Gies
Music
:
Fiedel
Lighting design
:
Thomas Zamolo
Image credits: Samuel Draper, Frédéric Gies, Grzegorz Matląg, Ania Nowak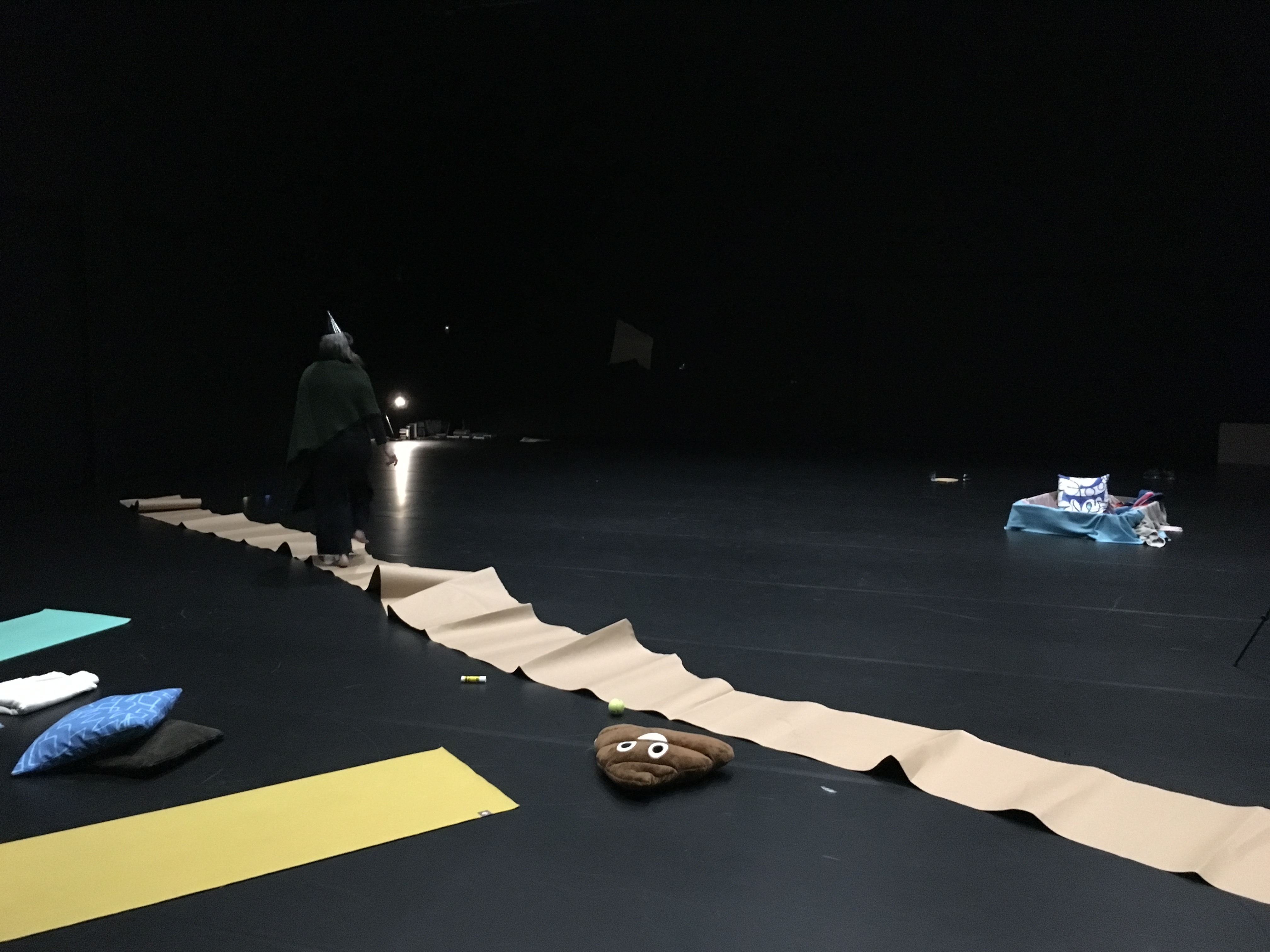 The Event Horizon Practice
Q: "What were you talking about?"

A: "What I was talking about depends on when you were talking to me."

The most recent practice in
The Celestial Body Series
of experimental performative (dance) practices tackles the notion of exhaustion (of not dancing) in the attempt to create the circumstances for dance to arise such that it [the dance] is perceived by the temporary community as meaningful, and as necessary; and as a viable form of communication and knowledge-exchange.
"Can meaningful communication exist outside of the event that makes communication meaningful?"
The members of
TOGETHER ALONE
expose
The Event Horizon Practice
in public. The event is imagined as a possible antonym of
The Moon Practice
: where
The Moon Practice
starts with a dance and transforms into a social event,
The Event Horizon Practice
intends to start as a social gathering which resists becoming a theatrical event, as long as possible, until it cannot not [become a theatrical event] or is not [a social gathering any longer] or is changed [and there's nothing we can do about it anymore].
The Event Horizon Practice
so intends to be(come) an aesthetic, a communal, a sensibly sensitive / a sensitively sensible, and a transformative experience.
The event is currently imagined as not more than 12 hours long. Food and non-alcoholic drinks are provided. Blankets and pillows as well.
Image credit: Samuel Draper